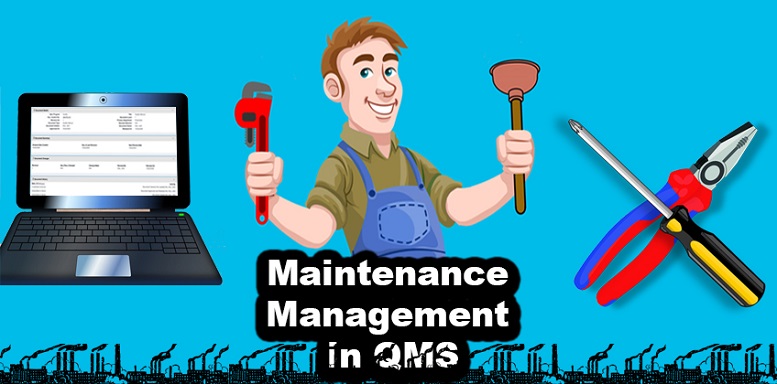 31 March, 2021

Md Chhafrul Alam
The maintenance practices and technologies have developed to meet the needs of the developing industrial environment. The purpose has evolved from a community of reactive fixers to dedicated craftsmen and craftswomen to proactive professionals. The next-gen personnel could well be based on practitioners of the QMS (Quality Management Systems).
Maintenance progress can be best explained by its ability to provide assurances for reliability. The Model for Quality Assurance, which meets the exact requirements for Equipment Reliability, is described in the ISO 9001:2000 Standard through process-centeredness.
Process-centered management is a system that controls organizational activities as a process. The process is managed through QMS (Quality Management Systems), which is clear on PDCA (Plan, Do, Check, Act) as a process method.
Maximum modern maintenance management activities are not linked to QMS (Quality Management System), which has unique management characteristics. By using these characteristics transforms modern maintenance practice into what may be the next-gen of Maintenance Management.
As a process model, the maintenance management structure is significant. It is an International Standard to adopt as a relevant Standard or best practice for the maintenance management's push towards reliability.
However, to resolve elements of the process, suitable definitions must be addressed to give the basis for creating trustworthiness.
Maintenance can be defined as degradation management of engineered materials to retain their performance within their designed operating parameters.
Just as stress can quicken metals' decay in a destructive environment, operational pressure moves equipment and systems toward a breakdown. Limiting pressures within the operating environment controls reliability.
The maintenance elements which are relevant to PDCA (Plan Do Check Act) are
Protecting components from pressure
Observing their condition, and
Undertaking component(s) replacement before the failure threshold level caused by pressure excesses.
The system components are Preventive Maintenance (PM), Condition Monitoring (CM), and Planned Overhaul (PO). It is opposite this background that maintenance activities are known.
Preventive Maintenance (PM)
It is whatever action is undertaken to provide security against or reduce the rate of degradation by:
The application of adjustments, coatings, or cleaning to retain components within design operating conditions.
The chemical or physical control of applied media to the operating environment can raise the pressure in components beyond their design operating parameters.
Condition Monitoring (CM)
It identifies the adequacy of preventive Maintenance for the stresses of the environment.
It identifies the rate of degradation towards the failure threshold level.
It is the measurement of degradation or rate of degradation.
Condition Monitoring (CM) plays a double role in the maintenance process for controlling preventive maintenance applications. Stress increases, alerting to impending failure.
Another class thinking is that condition monitoring is sometimes viewed not as a part of the maintenance process but merely as a process measurement provider for the "check" activity of the process.
Planned Overhaul (PO)
Planned overhaul occurs before failure when the rate of degradation is excessive, as noted by condition monitoring. The component is nearing the threshold failure level. It includes the disassembly, component replacement, and re-assembly of equipment.
The Maintenance properties of PMs, CMs, and POs are repeatable for equipment as it goes through its life cycle.
The features of Quality Management Systems (QMS )are as follows as it implements to Maintenance:
The 'Plan 'to gain reliability is based within the context of Preventive Maintenance (PM), Condition Monitoring (CM), and OH at the component level, while defining through documentation the human, economic and technical resources to achieve the reliability.
The 'Do 'is the exact work instructions to be performed and the options at the point of execution to inform its reliability status requirements and record-keeping.
The 'Check 'is to identify whether the reliability requirements are being met within the context of the human, economic and technical resources.
The measurement of the plan's effectiveness and efficiency determines whether waste through unwanted activity or errors has occurred. It can trace the use of resources to determine when they are beyond those offered by the plan for reliability.
Also, Condition Monitoring (CM) techniques are applied as related measurements toward ensured reliability.
These measurement parameters give the trigger at the analysis stage to determine the likely reliability enhancements' component situation. Furthermore, Pareto Analysis's utilization based on the harsh environment's formatting root causes, incorrect operation, recommended lack of maintenance or end of life will resolve enhancement issues required for effective and efficient maintenance management.
The 'Act 'is all action taken as a result of examining to provide the feedback mechanisms to the Plan for adjusting any of the Preventive Maintenance (PM), Condition Monitoring (CM), or Planned Overhaul (PO) to finally reach the reliability levels required with the context of the stated resources.
The Application of PDCA (Plan Do Check Act) method earlier contains the features of all Quality Management System (QMS), which provides reliability or performance assurances:
Feedback
Measurement
Record keeping
Procedures (work instructions)
Resource identification
Maintenance Management Systems with these features provide the methodology for continual improvement towards expected reliability.
The adoption of the Quality Management System (QMS) model for Maintenance has several benefits.
The model:
Recognizes maintenance resources, as it helps its contribution such as current ratios, cash flows, etc., to enhanced organizational management.
Outlines the opportunity for maintenance to adopt a similar process centered-ness as the rest of the company. In the event, the Quality Management System (QMS) forms part of the company's management.
Defines the most economical cost of reliability proactively. Establishes a system for the best practices for reliability.
Sets the selection basis for Computerized Maintenance Management System (CMMS).
Maintenance Grows activity budgets; the cheapest cost for reliability is measurable, and variances can be addressable.
Sets a process through Quality Management System (QMS) for using Maintenance Management.
Channels varying methodologies used by maintenance specialists into a world-class standard.
Sets a structure and accountability for measuring outsourced maintenance contracts.
Sets a method for determining maintenance human resource conditions where reliability assurances can be achieved.
Determines the particular technical conditions for reliability.
Sets the basis for Just-in-Time (JIT) spares inventory management.
Defines a systematic application of Condition Monitoring (CM) data and its role in the process.
Recognizes an equal costing method for maintenance. Gives the basis for proactively setting the contribution of maintenance to the product cost.
States Root Cause Analysis for Pareto Analysis for endless development.
The ISO 9001: 2000 Scope is customer-focused concerning the Quality Management System's (QMS) practical application. The context is relevant as the operations or production department can be seen as the maintenance department's customer. Forwarding reliability through an improvement process driven by Quality Management System (QMS) maintenance management features meets the International Standard requirements.
Ultimately, Total Productive Maintenance (TPM), Condition Based Maintenance (CBM), Reliability Centered Maintenance (RCM), etc., may very well have the same attributes as Quality Management System (QMS). The aim should be for the maintenance community to dovetail all into one Standard for the practice of maintenance management. They all have the same reliability objective, aligning them to the Internationally recognized Quality Management System (QMS) Standard. The egos of 'ownership' and which is better can go away.
Different Types of Maintenances
Here you will get different types of equipment maintenance categories information that may help you strategize business operations efficiently.
Various types of maintenances exist, including:
Preventive Maintenance
Predictive Maintenance
Condition-Based Maintenance (CBM
Planned Maintenance
Corrective or Reactive Maintenance
Emergency or Unscheduled Maintenance
Deferred Maintenance
Risk-Based Maintenance
Time-Based Maintenance (TBM)
Total Productive Maintenance (TPM)
Failure-Finding Maintenance
Preventive Maintenance
It is the type of maintenance designed to prevent equipment breakdowns, failure, or downtime. Companies take specific measures in advance to reduce the probability of inconsistencies.
Preventive Maintenance is also known as a proactive approach to equipment maintenance before it leads to production delays. It needs maintenance teams to track the past occurrences of breakdowns and failures to recognize the timespan when equipment may stop functioning accurately.
Luckily, businesses can access advanced Maintenance Management Software to analyze equipment performance, predict the interventions, and organize their maintenance activities accordingly. It not only ensures increased productivity but also explains the company's commitment to the best practices.
Predictive Maintenance
It is something that intelligent maintenance teams stay prepared to handle the system's inconsistencies by constantly monitoring data and devices.
For this type of maintenance, businesses generally use sensor devices to keep them informed and alarmed on each problem that interrupts the production cycle. Sensor devices interpret the data signs to warn onsite staff about approaching downtime.
It is usually the most intensive and high-level maintenance since it requires processing massive chunks of data in real-time. Even the sensor devices need routine maintenance. However, you can manage predictive maintenance with comfort using cloud-based Maintenance Management Software like QISS that offers a scalable and centralized platform for your essential data.
Condition-Based Maintenance (CBM)
It is somewhat similar to Predictive Maintenance, but these maintenance activities are applicable only when the equipment meets the particular condition defined for them.
Condition-Based Maintenance (CBM) is more helpful than Predictive Maintenance since there is more transparency when maintenance needs to be done. You needn't rely on data analysis where you do not have clearly defined metrics to look for. Condition-Based Maintenance (CBM) requires your maintenance teams to submit a request to initiate the maintenance activity each time the conditions are met.
The hand-operated practices may lead to additional delays in processing maintenance requests. However, you can rely on solid Maintenance Management Software to create, manage, and track maintenance activity requests more efficiently and effectively.
Planned Maintenance
It is all about completing all the scheduled Maintenance. The maintenance team will keep the resources in place that they may require for the Scheduled Maintenance. It helps control equipment performance and meeting compliance. More will be the number of Planned Maintenance you will perform; minor will be your production operation breaks.
Planned Maintenance can be easier with an Electronic Maintenance Management Software (EMMS).
The advanced software allows your teams to set alerts and notifications for the upcoming maintenance activities. So you don't miss maintenance of compliance superiority.
Corrective or Reactive Maintenance
It is designed for repairs and maintenance required on the spot whenever an issue or fault is detected. The only objective is to make equipment functioning as soon as possible. So it can execute the assigned task. It can be unplanned and planned.
The unplanned corrective maintenance is quite costly since you cannot predict the costs it may impose on you. So, corrective maintenance is for managing sudden events that may occur anytime, anywhere.
Having sound maintenance management software can help manage sudden maintenance in a more regulated and modernized manner, enabling you to make better and faster decisions based on the available data.
Emergency or Unscheduled Maintenance
It is pretty similar to Corrective Maintenance since it also deals with unexpected breakdowns and equipment crashes. Such maintenance needs urgent intervention for repairing and replacing the equipment's failed components to get everything back on track at the earliest.
It is more costly than all other maintenance because it leads to repair and replacement costs and productivity loss. Also, it is five times more inefficient and expensive than Preventive Maintenance.
To control emergency maintenance, you can keep extra resources stocked in your production unit to save as much time as possible to get equipment up and running.
Deferred Maintenance
It involves repairs and inspections that companies put on hold due to budget and resource restrictions; with deferring maintenance, you can save upfront expenses. Simply these expenses may increase due to fines resulting from missed examinations and unscheduled downtime that can pause production.
In all the Maintenance, deferred Maintenance and emergency maintenance are the least desired maintenance types because of the expensiveness and inefficiency.
Risk-Based Maintenance
Risk-Based Maintenance, the companies usually perform an examination or test of the equipment at routine intervals to determine equipment status. Such routine inspections help them keep a check on equipment health and take the perfect preventive measures on time.
In general, risk-based maintenance needs companies to perform a risk assessment of their equipment.
A computerized maintenance management software can help you manage risk-based maintenance in an orderly manner to focus on the equipment that is more dangerous than others.
Time-Based Maintenance (TBM)
Time-Based Maintenance (TBM) is a scheduled type of maintenance wherein the maintenance team replaces the spare parts and equipment components following a certain usage level.
For instance, suppose an element can best perform for 1000hrs. In that case, it will be replaced once this limit is crossed, even if the condition of the component is not so bad. It works excellent with sensor alarms that keep your maintenance team notified about the usage level.
An outstanding Maintenance Management Software can make an important addition to keep your equipment in the most suitable working state by sending them automated warnings and notifications within time.
Total Productive Maintenance (TPM)
It is often pointed to as the broadest type of maintenance. It targets more than the assets that require maintenance. It grows employee happiness and overall confidence in the workplace and maintains equipment health, particularly in manufacturing plants.
It focuses on rising Overall Equipment Effectiveness (OEE) and the amount of planned maintenance to ensure that every worker gets the needed resource for doing their job well, which implies higher comfort levels. It also involves encouraging machine operators to cooperate in maintenance activities and take control.
Failure-Finding Maintenance
Failure-Finding Maintenance, businesses commonly execute functional tests on equipment to recognize the failure on fixed intervals. However, you can define the schedules based on the risk assessments.
A lot of maintenance to manage. So now, perhaps you understand the vital need for powerful maintenance management software like QISS.
Each business needs standardized maintenance management software to help manage production fluctuations, malfunctioning machines, or complete breakdowns to avoid potential pauses in the production, partially or entirely.
If you want to enhance your assets' performance, including equipment and spare parts, while decreasing downtime and overall maintenance expenses, get in touch with the USA's best QMS companies. Their QMS software will be suitable for your business.
Maintenance Management – FAQs
What does QMS stand for?
QMS stands for Quality Management System.
What does ISO stand for?
ISO stands for International Organization for Standardization.
What does PDCA stand for?
PDCA stands for Plan, Do, Check, Act.
What does PM stand for?
PM stands for Preventive Maintenance.
What does CM stand for?
CM stands for Condition Monitoring.
What does PO stand for?
PO stands for Planned Overhaul.
What does CMMS stand for?
CMMS stands for Computerized Maintenance Management System.
What does JIT stand for?
JIT stands for Just-in-Time.
What does TPM stand for?
TPM stands for Total Productive Maintenance.
What does CBM stand for?
CBM stands for Condition Based Maintenance.
What does RCM stand for?
RCM stands for Reliability Centered Maintenance.
What does TBM stand for?
TBM stands for Time-Based Maintenance.
What does EMMS stand for?
EMMS stands for Electronic Maintenance Management Software.
What does OEE stand for?
OEE stands for Overall Equipment Effectiveness.
What does the USA stand for?
The USA stands for the United States of America.
What does QIA stand for?
QIA stands for Quality Institute of America.
What does QISS stand for?
QISS stands for Quality Institute Software Solution.
What is QIA?
QIA is a USA-based software company.
What is QISS?
QISS is an ISO (International Organization for Standardization) standard-based Quality Management System Software.
Choose suitable software for your business from QISS essential software list. We are always ready to provide you ISO-based QMS services through QISS QMS software.