ISO Nonconformance Management Software
ISO Nonconformance Management Software provides features and support for identifying and managing product conformance within the context of a QMS (Quality Management System).
The right nonconformance management software can enable your business to stop expensive nonconformances, streamline conformance management, and improve quality processes.
ISO standard based QMS Software QISS Offers Non-Conformance Management Software for your company. A nonconformance can lead to rework, scrap, or, even worse, a product recall. Identify, evaluate, review, and manage all very easily with QISS Nonconformance Management Software.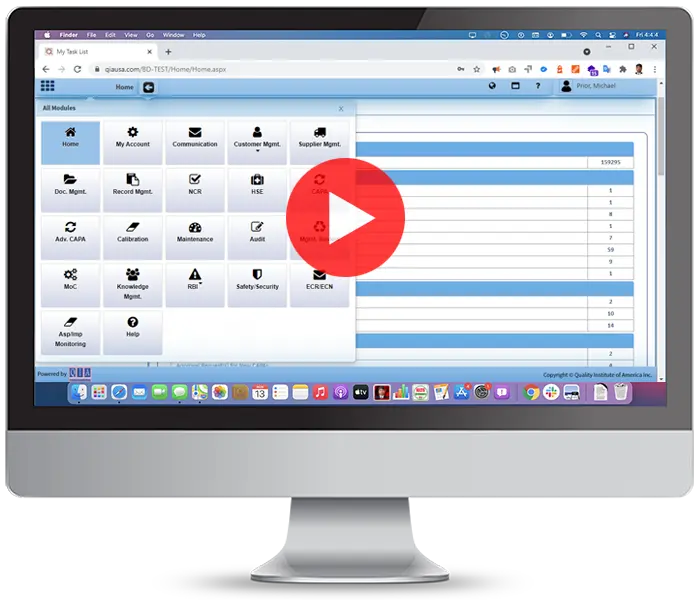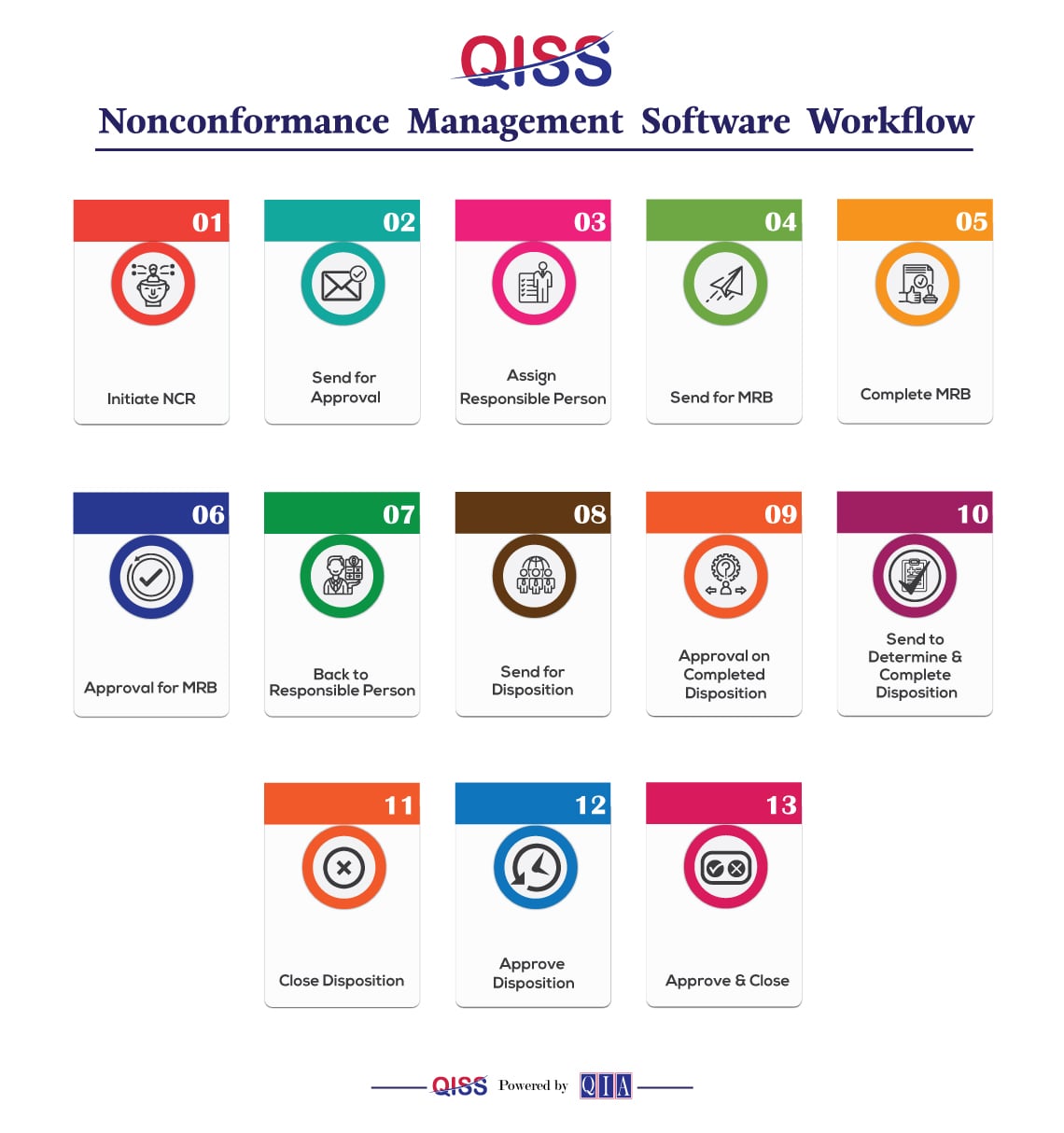 Figure: QISS Nonconformance Management Software Workflow
---
QISS Nonconformance Management Software
---
This writing will discuss a Nonconformance Management Software of an ISO (International Organization for Standardization) standard-based Quality Management System Software QISS.
Although it is commonly called the Nonconformance Report, it is not just a report. It is the process that systematically identifies and deals with defects in products being produced for the market. Products include Services such as Lawn Service, Legal Services, Health-Care, and others. The NCR process helps ensure that defects do not proceed forward until it is corrected.
What is the QISS Nonconformance Management Software?
The QISS NCR module is the workhorse tool for identifying and dispositioning product outputs that do not conform to customer expectations or an organization's production requirements. The module is designed to document and allow dispositioning of non-conforming product issues and record each transaction's history. By documenting all non-conformances, an organization can operate a more effective and vibrant QMS and is afforded the opportunity to analyze its production capabilities.
How does the QISS Nonconformance Management Software work?
The NCR module allows the user to set up the module with needed data and information for effectively managing non-conformances on a daily basis. In the setup phase, the module manager will assign various permissions to employees who have access to the NCR module. These permissions will allow the user to undertake assigned tasks, approve work, manage their individual task assignments. QISS provides the ability to set up NCR categories, MRB information, disposition types, failure modes, and NCR groups. Additionally, charts and reports, and analytics are available so the user can have the best and most powerful tools at their disposal for effectively managing non-conformance reporting activities.
Once the setup is complete, the user can initiate a non-conformance action. This is done by filling out the various fields related to a non-conformance, identifying the NCR details, and providing a detailed description of the issue. Once completed, the user chooses the person to undertake the dispositioning of the NCR. Approval of the action taken is performed by the module manager or an assigned individual with requisite permission. After disposition is complete, the NCR can be closed or accelerated to a CAPA by simply pressing a button.
Why does the QISS Nonconformance Management Software matter?
The QISS NCR module plays a vital part in an organization's QMS by documenting non-conformances and dispositioning the same. It provides a process that will strengthen an organization's overall productivity and meet ISO standards' requirements related to non-conforming output or product. The above summary of QISS-NCR shows how using this system can give you an advantage over your competition.
Benefits of QISS Nonconformance Management Software
Activities by authorization: QISS is a permission-based software, and authorized users can only perform each activity. The module manager or one of his or her authority is responsible for granting permission for these activities.
Ability to associate category and failure mode to an NCR: Each NCR belongs to a category. In addition, a failure mode also can be associated. Disposition types are defined by category.
Ability to initiate NCRs of different origins: Authorized users can initiate NCRs of different origins. Origins can be internal, customer, or supplier.
NCR options: QISS allows customization through options. An organization can utilize these options to change default settings provided by QISS.
Configurable email settings: QISS sends an email whenever actions are performed, and assignments are made. In addition, emails are sent when assignments are past due. Messages can be configured for assignment emails. Both messages and recipients can be configured for FYI emails. Messages, recipients, initial delays, and frequencies can be configured for past-due emails.
Ability to add custom fields: QISS associates standard fields, such as title, department, category, and failure mode, to an NCR. In addition to these standard fields, additional fields can be added through custom fields.
Ability to reference other NCRs: A NCR can be associated with other existing NCRs during initiation or any time after initiation.
The ability for customer representatives to initiate NCRs: Authorized customer representatives can initiate NCRs related to their organization.
NCRs from the audit: NCRs can be initiated from an audit. Input name for such audits would be an audit.
Saving current work: During initiation, the initiator can save the current data without submitting it for further action. Saved data can be retrieved at the appropriate time for continuation.
Responsible person for each NCR: When NCR is approved for action, the initial approver assigns a responsible person for that NCR. The assigned person is responsible for coordinating activities until it is approved.
Supplier representative as a responsible person: QISS allows assigning a representative from the supplier site as responsible person for NCRs initiated for that supplier site. In this case, users from that site complete the NCR steps and send the NCR back for verification.
Ability to send NCRs to Material review board: Responsible person of an NCR can send that NCR to selective members of the material review board, also called MRB. Those members can review the NCR and provide their feedback.
Disposition actions for NCRs: Each NCR needs disposition before it can be approved and closed. An NCR can have multiple disposition types, and each type can be sent to a different user for disposition action.
Ability to initiate CAPAs from an NCR: QISS allows initiating CAPAs from an NCR. Details from NCR are automatically transferred to that CAPA.
NCR dashboard: QISS displays all open NCRs in the dashboard so that users can view the current status. The current status of an NCR includes required action, the due date for the action, and the user it is waiting for.
Discussion notes: Authorized users can associate any additional information about an NCR to that NCR outside NCR workflow activities. QISS allows attachments in addition to notes.
Advanced search capabilities: A user can retrieve NCRs precisely by specifying search conditions in the advanced search.
Charts and reports: QISS provide both standard and configurable charts for data analysis.
Ability to email NCR records to others: QISS allows sending NCR records to others, internally and externally. All attachments would be automatically included in the email.
Edit capabilities: Authorized users can perform edit activities to modify existing data.
Features of QISS Nonconformance Management Software
Following is a list of features that QISS-NCR offers its users:
Ability to initiate internal, supplier, or customer NCRs
Ability to add custom fields
Ability to assign supplier representative to complete activities for a supplier NCR
The ability for a customer representative to initiate NCRs
Ability to send to relevant members
Ability to setup Failure modes, Categories, and Disposition types
Ability to make Disposition Actions
Dashboard to view pending assignments
Configurable email functionality for assignments, FYIs, and past dues.
Charts & Reports
Advance email notification about dues
The advanced search feature to filter out records by specifying filtering criteria
Analytics – Configurable charts and reports
Ability to undo the last action
Ability to delete NCRs that are no longer needed
Ability to edit NCRs
Ability to add comments and attachment to an open NCR anytime while it is open
Configurability of what columns should appear on the view page
Ability to initiate a CAPA (corrective action) from the NCR module, if needed
The history of the QISS Nonconformance Management Software
Introduced in 2004. QISS software is designed to be compliant with all ISO quality standards. The QISS NCR module has seen evolutions related to changes in ISO standards and reflects the requirement of these standards for addressing non-conforming outputs/product measures.
With the advent of ISO 9001:2015, ISO introduced a new standard, unlike previous versions. ISO 9001:2015 is less prescriptive in its requirements and allows its adherents the ability to define and document their QMS in a way that is most effective for their type of business model.
The most revolutionary part of the new standard is the introduction of risk assessment and analysis. ISO 9001:2015 assigns great responsibility for non-conformance reporting and disposition actions, as expected (section 8.7 Control of non-conforming outputs), but additional measures are dictated in Section10.2 Non-conformity and corrective action. Special attention is required on non-conforming outputs and how an organization reacts to them.
Documenting and dispositioning an NC output, section 10.2 requires that an organization review and analyze all NCRs and determine the cause of the non-conformity and if similar non-conformities exist. At this point, an organization shall implement any action needed.
Why the additional workload, as it differs from previous standards?
The answer is introducing the most revolutionary part of the new standard: risk assessment and analysis. It requires that risk is assessed at all levels of an organization (and all non-conforming output levels). If the risk is found, a plan on reducing or eliminating the risk must be undertaken and documented.
As shown above, the QISS NCR module is designed to document non-conformances. Suppose the risk is assessed as high for a particular NCR. In that case, the module allows the user to accelerate the NCR to a CAPA and perform risk assessment and root cause analysis to determine the most effective measure to prevent reoccurrence of the underlying non-conformance issue.