ISO Audit Software Solutions
ISO standard based QMS QISS Offers Audit Management Software System for your company.
It automates tasks so that organizations can successfully pass audits. A powerful electronic audit management software system can help a company efficiently manage its whole audit process from beginning to end.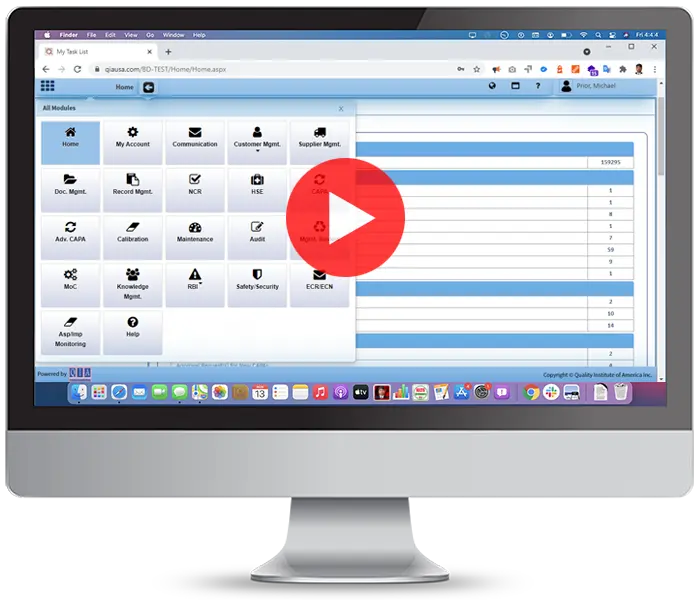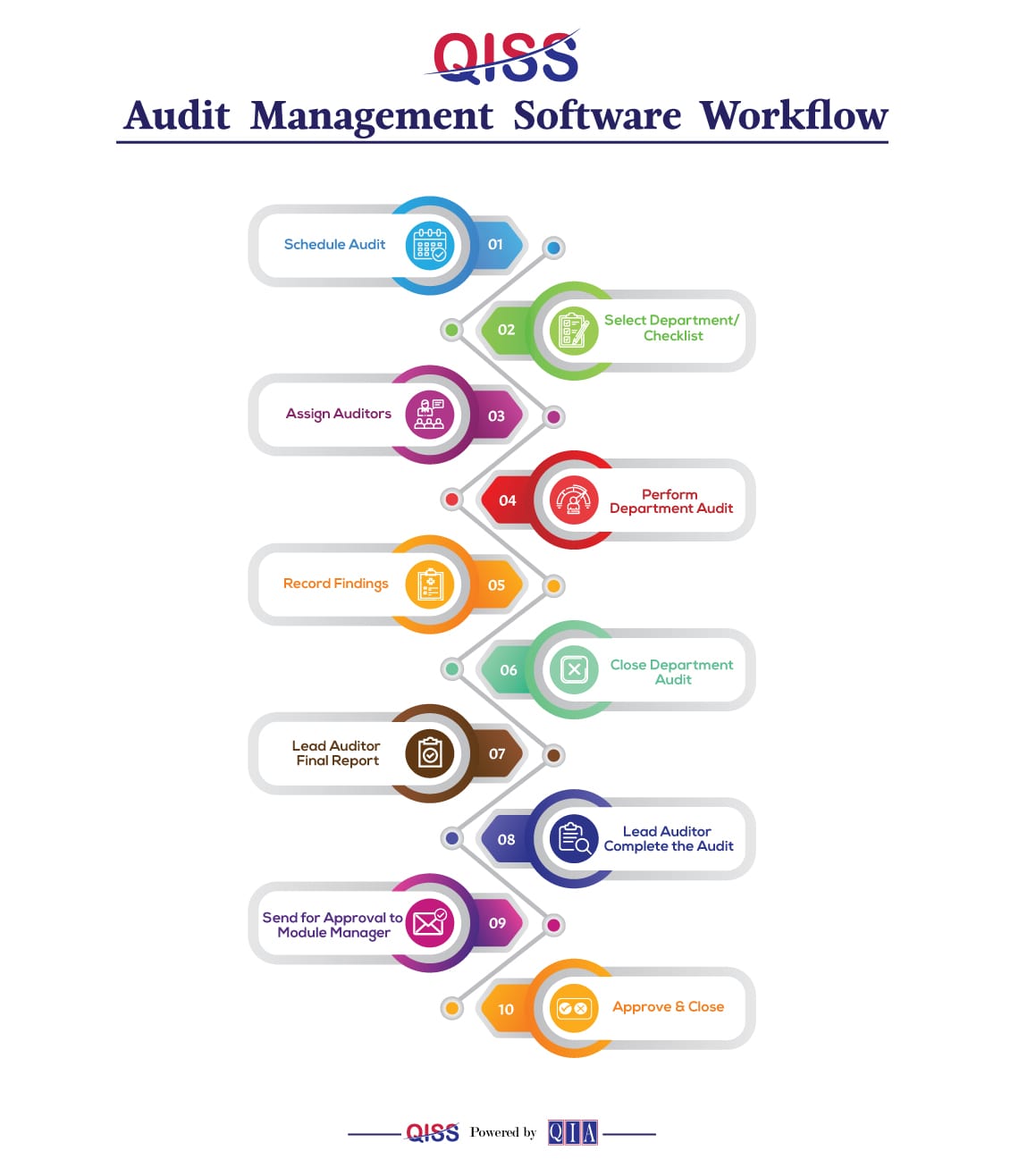 Figure: QISS Audit Management Software Workflow
---
QISS Audit Management Software
---
This writing will discuss an Audit Management Software System of an ISO (International Organization for Standardization) standard-based quality management software QISS.
Internal Audit
ISO 9000 defines Internal Auditing as a "Systematic, independent and documented process for obtaining audit evidence and evaluating it objectively to determine the extent to which audit criteria are fulfilled." This activity in a QMS (Quality Management System) could be one of the most powerful ones that ensure that the QMS complies with the Standard and identifies areas of improvement beyond mere Compliance. It would depend on how the criteria are set. Please read the article in the QISS Published Content section of our website: ISO 9001: Tyrant or Servant.
ISO 9000:2015, clause 9.2.1, states that an organization shall conduct internal audits at planned intervals to provide information on whether the QMS:
Conforms to:

The organization's own requirements for its QMS
The requirements of ISO 9001:2015

It is effectively implemented and maintained
Clause 9.2.2 states that an organization shall:
Plan, establish, implement, and maintain an audit program including frequency, methods, responsibilities, planning, and reporting – these shall consider the processes concerned, changes affecting the organization, and the results of previous audits.
Define audit criteria and scope
Select auditors and conduct audits to ensure objectivity and impartiality
Ensure results are reported to relevant management
Take appropriate corrective and preventive actions without undue delay
Retain documented information as evidence of the implementation of the audit program and the results
Auditors will prepare a plan for the audit, accounting for the organization's size, number of processes, number of employees, and the type of business being audited. An audit checklist will be created and provided to the auditee before the audit, and an agreed-upon date for the audit will be scheduled. Any additional auditors will be selected, and any additional issues will be determined and dealt with before the audit date.
How does QISS software help an organization with its Internal audit requirements?
In summary, QISS provides an organization the tools to ensure that the processes required to attain Compliance with QMS Standards are managed, planned, executed, and controlled according to requirements. It is true for all modules in QISS.
In addition to being an excellent business investment, the QISS Audit module is a valuable tool for Compliance in highly regulated industries and small companies that fall under the same ISO requirement of conducting and implementing an audit system under ISO 9001:2015.
What is the QISS Audit Management Software?
QISS Audit Software provides tools to ensure that all auditing activities are documented in one place. It also allows the user to set up and schedule audit activities, upload audit agendas, audit schedules, and relevant documented information needed for the audit to be completed, all within the software. Notices of audit dates are sent to the proper parties via the in-software email system.
How does the QISS Audit Management Software work?
The QISS audit software allows the user to upload audit agendas, checklists, and auditor rosters and keep them as documents for future audits. The software allows the user to schedule audits and assign audit tasks within the software using the internal email feature.
The schedule also allows for the designation of the department(s) being audited, sections of the Standard being audited, auditors selected, and the dates and times for the upcoming audit.
Both NCRs and CAPAs can be initiated from an audit. If departments perform the audit, any auditor who is authorized to initiate NCRs and CAPAs can initiate NCRs and CAPAs for those individual departments.
Why does the QISS Audit Management Software matter?
The QISS Audit Software allows the user to manage all audit functions within one single platform. It saves time and makes the process more efficient and effective by having all audit-related documents and schedules controlled in the Software.
The audit software is the ideal tool for managing audits for an organization, from audit scheduling, auditor selection to loading agendas and checklists.
Benefits of QISS Audit Management Software
Activities by authorization: Like any other module in QISS, the audit module activity can only be performed by authorized users. The audit module manager or one of his/her higher authorities is responsible for granting permission for appropriate users' activities.
Auditors: Auditors can be added to QISS as lead auditors, regular auditors, and auditor trainees. During the schedule of an audit, a lead auditor and other auditors are selected from this list.
Checklist: QISS allows adding checklists into QISS. When scheduling an audit, required checklists can be referenced so that auditors can download them during the audit and attach the completed checklists.
Custom fields: In addition to standard fields provided by QISS, such as source, checklist, and lead auditor, authorized users can add custom fields to audit.
Ability to email audit records to others: QISS users can email audit records to others. All attachments related to an audit record that is being sent would be automatically included in the email.
Scope of audit: QISS allows performing internal, external, customer, and supplier audits.
Audit schedule: Audit can be performed by individual departments or for the whole organization. Besides, standard elements can be specified in association with that audit. When an audit is scheduled, a lead auditor is assigned. Also, additional auditors can be assigned. QISS informs all assigned auditors. If departments perform the audit, any auditor can attach reports and completed checklists for those individual departments. A lead auditor must officially complete each department's audits before the audit can be completed and sent to the audit module manager for closeout. Suppose the audit is performed for the whole organization. In that case, only the lead auditor can attach reports and completed checklists before completing and sending them to the audit module manager for closeout.
NCRs and CAPAs from the audit: Both NCRs and CAPAs can be initiated from an audit. If departments perform the audit, any auditor who is authorized to initiate NCRs and CAPAs can initiate NCRs and CAPAs for those individual departments. If the audit is performed for the whole organization, only the lead auditor can initiate NCRs and CAPAs, if he/she has the permission to do so.
Edit capabilities: Authorized users can edit or delete existing audit records. Audit records are edited or deleted by selecting the audit using audit start date, end date, and audit title.
Features of QISS Audit Management Software
Ability to schedule an internal audit for a particular department or an entire organization
Ability to initiate an NCR or a CAR from the completed audit
Ability to edit or re-open an audit that has already been closed
Ability to delete audits/records that are no longer needed
Ability to add custom fields
Allows you to set Internal Customers and Suppliers audit
Get complete visibility into all your Audit activities
Track and access all Audit activity through this centralized web-based database so you can trend information and identify areas of increased risk.
Ensure Compliance with common management standards.
Satisfy and exceed audit, nonconformance, and corrective and preventive action requirements of many common standards such as ISO 9001, ISO 14001 and ISO 45001.
Prevent the recurrence or occurrence of discrepancies, failures, and deviations through dashboards that provide a real-time, at-a-glance assessment of the status of Audits in progress
Cultivate a companywide culture of continuous improvement
The history of the QISS Audit Management Software
An audit of any type is defined as an official inspection of an individual's or organization's accounts, typically by an independent body. The first audits were probably performed in the stone age and concerned themselves with tools and available food. As mankind progressed, the system of checks and balances was introduced to account for irregularities in assets or possessions, namely money. But, other types of audits deal with Compliance and observable evidence of processes.
Organizations that are certified by an international body such as ISO are subject to auditing, both internally and externally, to determine their Compliance to and effective usage of the requirements of the given ISO standard they operate under. The QISS Audit Software was developed to document and store required information related to an organization's audit activities.
As discussed herein, multiple abilities to schedule audits, provide agendas and participation notifications, and record and store the results of audits are contained within the module. The QISS Audit Software is a wise addition to an overall QMS software to manage an organization's processes and account for required, quality activities in a planned and controlled manner.