ISO Calibration Management Software
ISO standard based QMS Software QISS Offers Calibration Management Software System for your company.
It provides Necessary Connections Between Related Maintenance Tasks and Additional Quality Processes for Regulated Life Science and High-Tech Environments.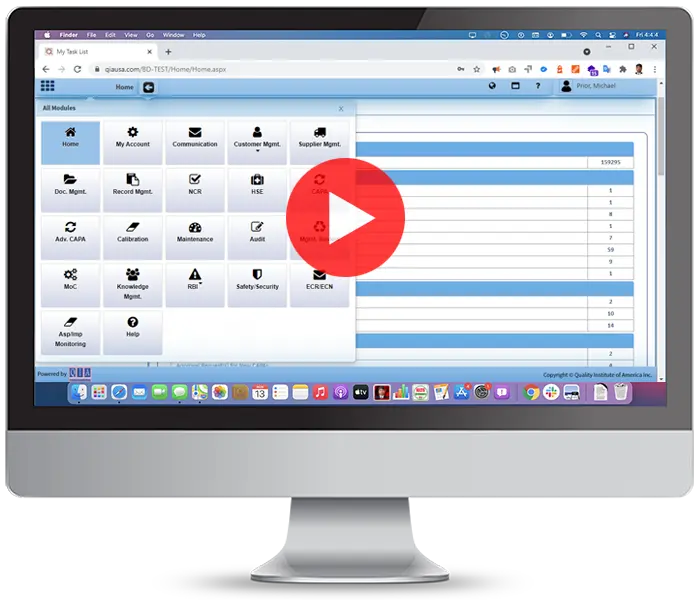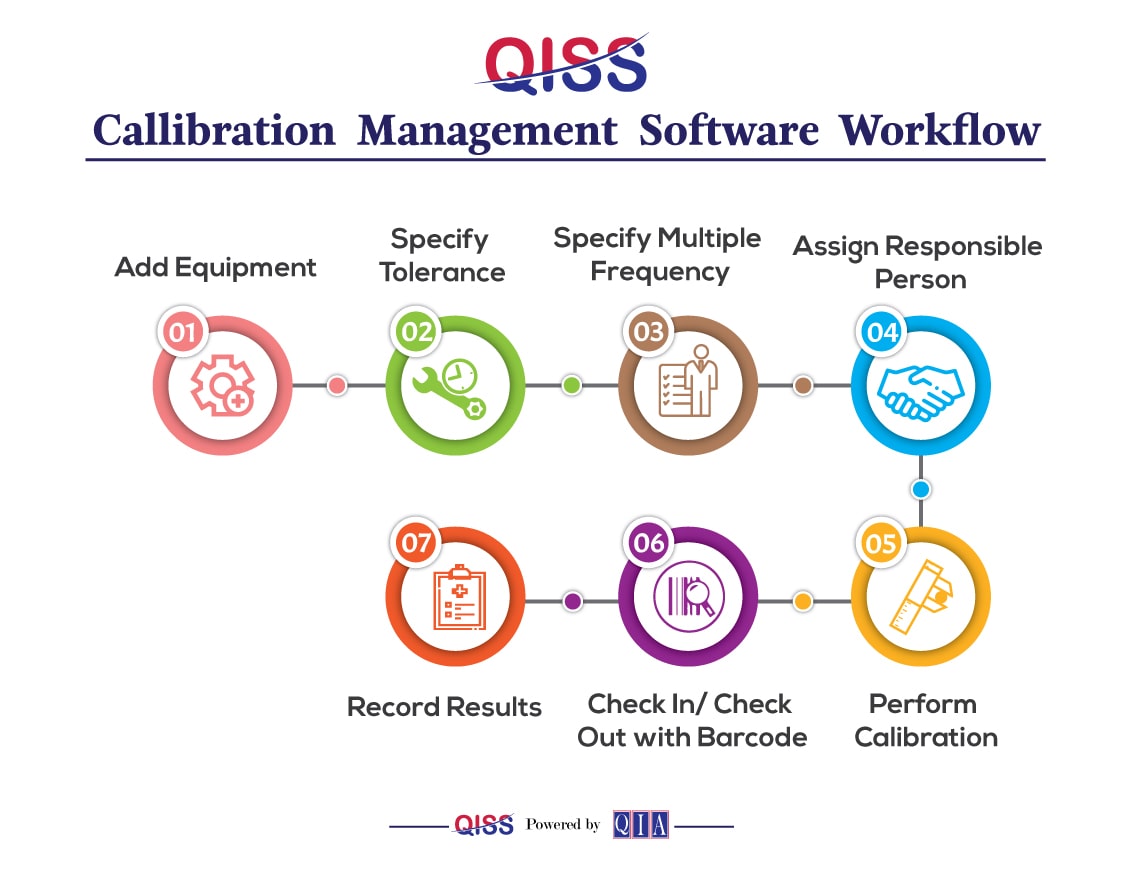 Figure: QISS Calibration Management Software Workflow
---
This writing will discuss a Calibration Management Software System of an ISO (International Organization for Standardization) standard-based quality management software QISS.
---
Monitoring and Measuring Resources – Calibration
ISO 9001:2015 (Fundamentals and Vocabulary) defines calibration as a documented comparison of the measurement device to be calibrated against a traceable reference standard/device. The reference standard may also be referred to as a "calibrator." Logically, the reference standard should be more accurate than the device to be calibrated. A good rule of thumb is 4:1. This definition is universal across all ISO standards. Calibration standards/ devices must have their accuracy validated against national standards, such as NIST for the USA. This validation must be traceable through an unbroken chain of validations to the Standard maintained by NIST or such National Standard bodies.
Under ISO, an organization must determine and provide the resources needed to ensure valid and reliable results when monitoring or measuring is used to verify products and services' conformity to requirements.
ISO 9001, clause 7.1.5.2, requires the organization to ensure that ".when measurement traceability is a requirement, or is considered by the organization to be an essential part of providing confidence in the validity of measurement results, measuring equipment shall be:
a) Calibrated or verified
b) Identified
c) Safeguarded.
During an audit, auditors seek demonstrable and objective evidence of such measurement traceability while auditing organizations. Traceability requires an established calibration hierarchy for measuring equipment. Organizations should ensure that measurements performed to evaluate their products, services, or equipment (e.g., for safety, quality, protection of health and the environment), or measurements performed by their own products, are traceable to SI units or an agreed method of testing. The SI system is the international system of units that specifies the basic units used in measurement science. SI system determines seven (7) base units (meter, kilogram, second, ampere, kelvin, mole, and candela) and 22 derived units. The base units are derived from constants of nature.
How does QISS software help an organization to ensure that all measuring devices are properly and timely calibrated for intended use?
In summary, QISS provides an organization the tools to ensure that the processes required to attain compliance with QMS Standards are managed and planned, executed, and controlled according to requirements. This is true for all modules in the QISS.
In addition to being an excellent business investment, a computerized calibration system is a valuable tool for compliance in highly regulated industries and small companies that fall under the same ISO requirement to monitor and measure resources under section 7.1.5 of ISO 9001:2015.
What is the QISS Calibration Management System?
QISS calibration module provides tools to ensure that all measuring devices are as accurate as necessary at the time of measuring. Proper calibration protocols are programmed into the application to serve as a quality assurance mechanism for improving the quality monitoring process. QISS saves time and money by automating the scheduling and planning of calibrations.
The calibration module allows the user to upload all equipment information on any type of calibration equipment. The equipment is designated by its serial number, type and maker of the equipment, the appropriate tolerance data, the initial setup date, and the equipment piece's current status.
Additionally, the software allows the user to enter various units of tolerance that are important for record-keeping and verification of future calibration activities.
Benefits of QISS Calibration Management System
Activities by authorization: Like all other modules, only authorized users can perform an activity in the calibration module. The calibration module manager or one of his/her higher authorities is responsible for granting permission for the activities.
Importing equipment from MS Excel: In addition to adding equipment one by one, QISS allows importing equipment details from MS excel files. During import, QISS performs necessary validation to make sure equipment has all the necessary information.
Advanced tolerance: In advanced tolerance, acceptable tolerance limits can be specified for a set of nominal values. This information is then used during calibration to compare the actual calibration result, and any deviation is automatically flagged.
Custom fields: In addition to standard fields provided by QISS, such as make, model, and serial number, authorized users can add custom fields to equipment. Custom fields also can be made searchable in advanced search features.
Advanced search: Users can filter out equipment and calibration records precisely using the advanced search. Advanced search allows users to add multiple search conditions simultaneously to the level they want.
Email configuration: As in all other modules, authorized users can configure default email settings provided by QISS to suit their organization's needs. QISS sends assignments, FYI, and past-due emails about calibration activities. For assignment emails, email subject and message can be configured. For FYI, emails, email subject, message, and recipients can be configured. For past due emails, subject, message, initial delay, and frequency of emails can be configured.
Ability to email calibration records to others: QISS users can email calibration records of equipment to others. All attachments related to calibration activities would be automatically included in the email.
Calibration options: Like options in other modules, calibration options allow customizing default functionalities in the calibration module. For example, by default, scheduled dates for calibration would be fixed for all equipment. However, it can be changed in options to determine the next scheduled dates for the upcoming calibrations from previous calibration dates and calibration frequencies.
Responsible person for calibration of each piece of equipment: When calibration frequency is set, a responsible person needs to be assigned for that equipment. The responsible person is responsible for entering calibration results of that equipment into QISS.
Edit capabilities: Authorized users can edit or delete existing calibration records for equipment. Calibration records are edited or deleted by selecting the equipment and the date of calibration.
Features of QISS Calibration Management System
Import equipment records from external excel source
Setup advanced tolerance features so that deviations from acceptable tolerance limits can be automatically flagged.
Add custom fields
Filter out calibration records according to specified search criteria
Inventory of measurement equipment
Calibration schedules with auto-reminders based on equipment frequencies
Record results of calibrated equipment
Get complete visibility into all your Calibration activities
Track and access all calibration activity through this centralized web-based database so you can trend information and identify areas of increased risk.
Ensure compliance with common management standards.
Satisfy and exceed audit, nonconformance, and corrective and preventive action requirements of many common standards such as ISO 9001, ISO 14001, and OHSAS 18001.
Prevent the recurrence or occurrence of discrepancies, failures, and deviations through dashboards that provide a real-time, at-a-glance assessment of the status of Calibrations within the system
Cultivate a companywide culture of continuous improvement
The history of QISS Calibration Management System
QISS's Calibration module is designed for capturing all the required data related to instruments used for calibration measurements. Furthermore, the module is designed for ease of use and simplifying the task of data storage in one convenient location.
The calibration module is one of the original modules created in the QISS. It has a long and productive history with the QISS customers the world over. 2021 will introduce a new calibration module that will offer faster speeds and more options for calibrated instrument documentation, thus continuing our history of calibration excellence.
As discussed herein, the QISS module allows an organization's users to record calibration information and schedule calibration dates for all equipment in the user's inventory. It maintains all record-keeping data required by both the ISO standard and the user's internal requirements. It also allows effective retrieval of calibration data for view and analysis purposes.