QISS Quality Management System
Quality is the enabler that takes you from failure to success. Whether you manufacture pharmaceuticals, medical devices, or another life-changing product, you need quality. This is needed for every step of the product life cycle.
However, a perfect, end-to-end digital quality management system makes quality at the source possible and compliance issues a thing of the past.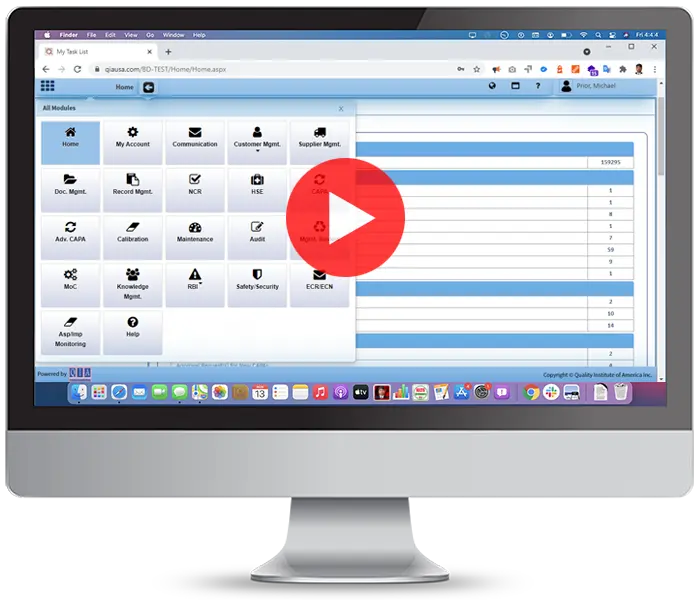 Quality Changes Everything
---
QISS was developed first for automating Quality Management Systems (QMS). The initial standard supported was ISO 9001, arguably the base standard for all subsequent standards.
---
QISS supports all Quality Management System standards, such as ISO 9001, ISO 13485, IATF 16949, API Q1, API Q2, AS 9100, CGMP, and others. Given the fact that QMS standards were the first to be developed (by the US Military) during WWll, it precedes all other formal Management System Standards, such as Safety and Environment. The first formal Quality Management System (QMS) was issued as MIL-Q-9858A, MILITARY SPECIFICATION: QUALITY PROGRAM REQUIREMENTS in 1963. This was used as a base for the UK's BS 5750, issued in 1979. The first accredited body for issuing certifications was awarded to Lloyd's Register for Quality Assurance (LRQA) in 1983.
QISS has a total of 30 modules that can be configured to suit various needs. For the base QMS designed for ISO 9001, the minimum modules should be Document Control, Records Control, Nonconformance-Control, Corrective Action, Internal Audits, and Management Review. These modules are specially meant to provide the over-arching management aspects of the QMS.
The following modules would give you a well-rounded system for your company: Calibration, Maintenance, Management of Change, Customer Complaints, Customer Surveys, ECR, ECN, Supplier Management, Knowledge Management, Records Management, Risk Assessment, Root Cause, Risk Mitigation, Laboratory Management. As you can see, these additional modules provide the automation and control of those aspects of a company that have more of a direct impact on the operation of the company.