QIA recommends the following modules for an effective environmental management system. All modules share a common theme of initiating tasks, follow Best Practice workflow, and help manage it through alerts, escalations. As tasks are done, records are generated and stored automatically, allowing for powerful analysis and reporting. Advanced searches are also available. Apart from the best practice fields already programmed in, custom forms with workflows can be created by you with ease. All modules are integrated with the others. Use of QISS assures water-tight compliance with standards, and auditors will be impressed.

QIA also offers professional, environmental management consulting services. A QIA client has at his disposal multiple professionals who possess the experience and knowledge on all aspects of environmental management. From PhD-level individuals to professional consultants with multiple years of experience, QIA can provide a client with the best advice and best practices needed for managing an environmental management system.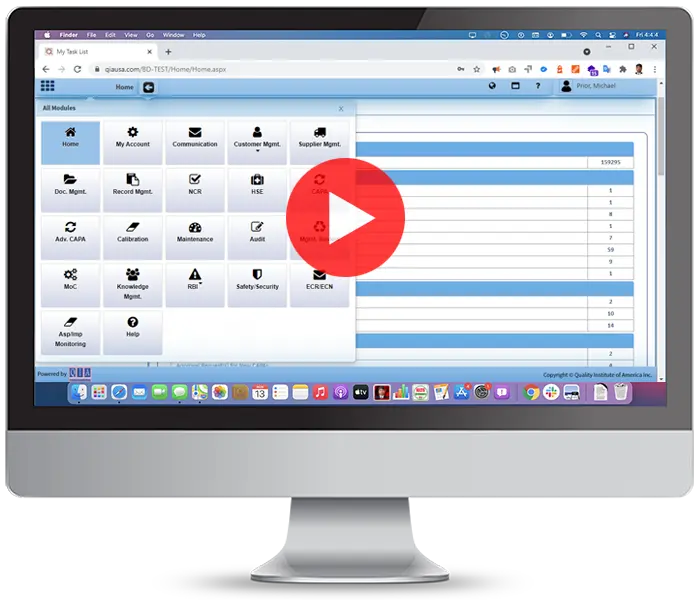 Environmental Management System Software
---
QISS was developed first for automating Environmental Management System Software (EMS). The initial standard supported was ISO 9001, arguably the base standard for all subsequent standards.
---
What is Environmental Management Systems Software?
Environmental Management Systems software or EMS, is an integrated system that include procedures and processes that:
Provide the capability to initiate an impact process, with all associated data related to an event
Provide the processes and data storage required for governmental reporting requirements
Provide for documentation creation and storage
Provide training of personnel
Provide risk assessment technology related to reported events
Provide non-conformance and corrective action modular systems to track and eliminate causes of future events
Why is it Important?
An organization that utilizes and Environmental Management Software benefits from two specific aspects:
The ability to address and respond to its regulatory requirements in a systematic way -the system is provided by te software and its designated workflow processes
Cost savings by using software versus a manual or hybrid process
Software allows the user to take a proactive approach to documenting and disposing of issues related to non-compliance with governmental regulations and aid in the improvement of health and safety processes and practices for an organization's personnel and the public at-large.
How Environmental Management Systems Software can help an organization?
An Environmental Management Systems Software offers a digital framework that:
Allows the user to create and manage the organization's strategic operations related to environmental management issues
Allows the user to create, document and implement an effective environmental policy that serves the overall interests of the organization and maintains operational excellence.
With an Environmental Management Systems Software, an organization can determine the areas of importance related to meeting organizational and environmental, that can include:
Waste management
Processing of required data and storage requirements
Reduction of carbon and other emissions
Features of QISS Environmental Management Systems Software
Environmental Policy
Should reflect the environmental ideals/direction of an organization
Allows the organization to ensure compliance with regulatory requirements
Environmental Requirements and Voluntary Initiatives
Understanding of regulatory requirements and their effect on an organization's EMS
Identify practices related to management and manufacturing that may affect an organization's EMS
Objectives
Should be specific to an organization's overall purpose
Seek compliance with regulatory requirements
Prevention of environmental impacts (pollution/accidents)
Structure, Responsibility and Resources
Availability of personnel
Availability of needed materials
Define management responsibilities
Manage and monitor objective performance
Operational Control
Organizational procedures/instructions for management and oversight
Corrective and Preventive Action and Emergency Procedures
Develop and maintain procedure(s) for error identification, correction, and preventative actions
Document all actions taken
Training, Awareness and Competence
Roles and responsibilities of personnel defined
Determine required trainings related to job descriptions and processes
Organizational Planning
Determine affect products have on environment and monitor for "life-cycle"
Training of personnel to identify and aid in elimination of environmental hazards/issues
Document Control
Procedures related to inspections, data management, record management
Document all impacts/issues related to environmental processes
Continual Improvement
Document improvement action items
Monitor performance based upon improvement actions
Perform necessary audits to determine effectiveness of EMS
Always monitor objectives as they relate to process performances
Benefits of QISS Environmental Management Systems Software
Running an effective Environmental Management Systems Software will help your organization with:
Costs of managing the overall system and improving overall efficiency of an organization's Environmental Management System. Other benefits include the ability to:
Manage Processes
Create and maintain procedures that define and identify required reporting and data recording
Maintain and protect data
Delegate responsibility and drive accountability
Workflow that assigns and monitors tasks and escalates if task performance is late
Competence training of personnel to manage processes and reporting requirements
Measure, monitor, and analyze program performance
Track and store all relevant and required data
Use of dashboards for quick and precise data retrieval
Allows for use of trending analysis
Save time and money
Software is efficient and fast compared to a manual or non-dedicated environmental systems software
Assign and monitor tasks more efficiently
Reduce compliance risk
Software can reduce risk exposure
Can provide "peace of mind"