The QISS Document Control software allows you to store your organization's documents in a centralized, secure system and enforce uniform processes for reviewing, approving, modifying, releasing, and obsoleting documents across numerous departments and locations.
The program streamlines document handling and exceeds compliance standards. It decreases total compliance costs and boosts productivity by automating essential operations like document release, revision management, and scheduled reviews. Many businesses worldwide use QISS to automate critical business operations and document management tasks. In addition, they utilize QISS to facilitate collaboration, enhance decision-making, and reduce time to market.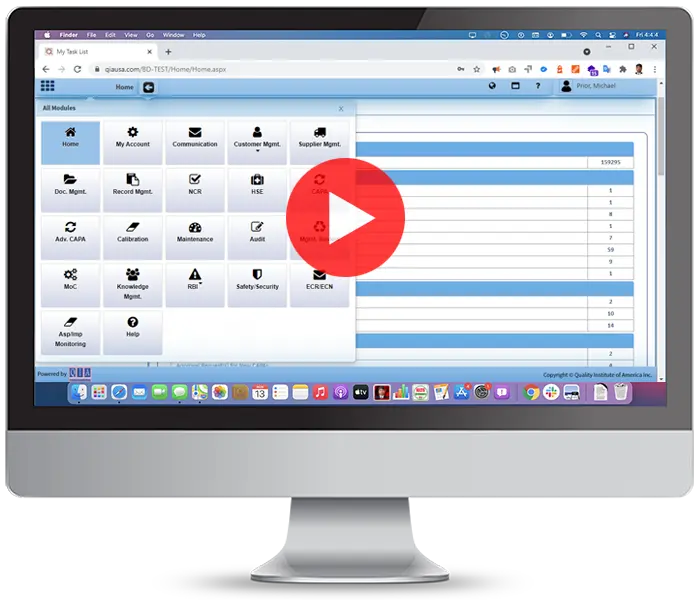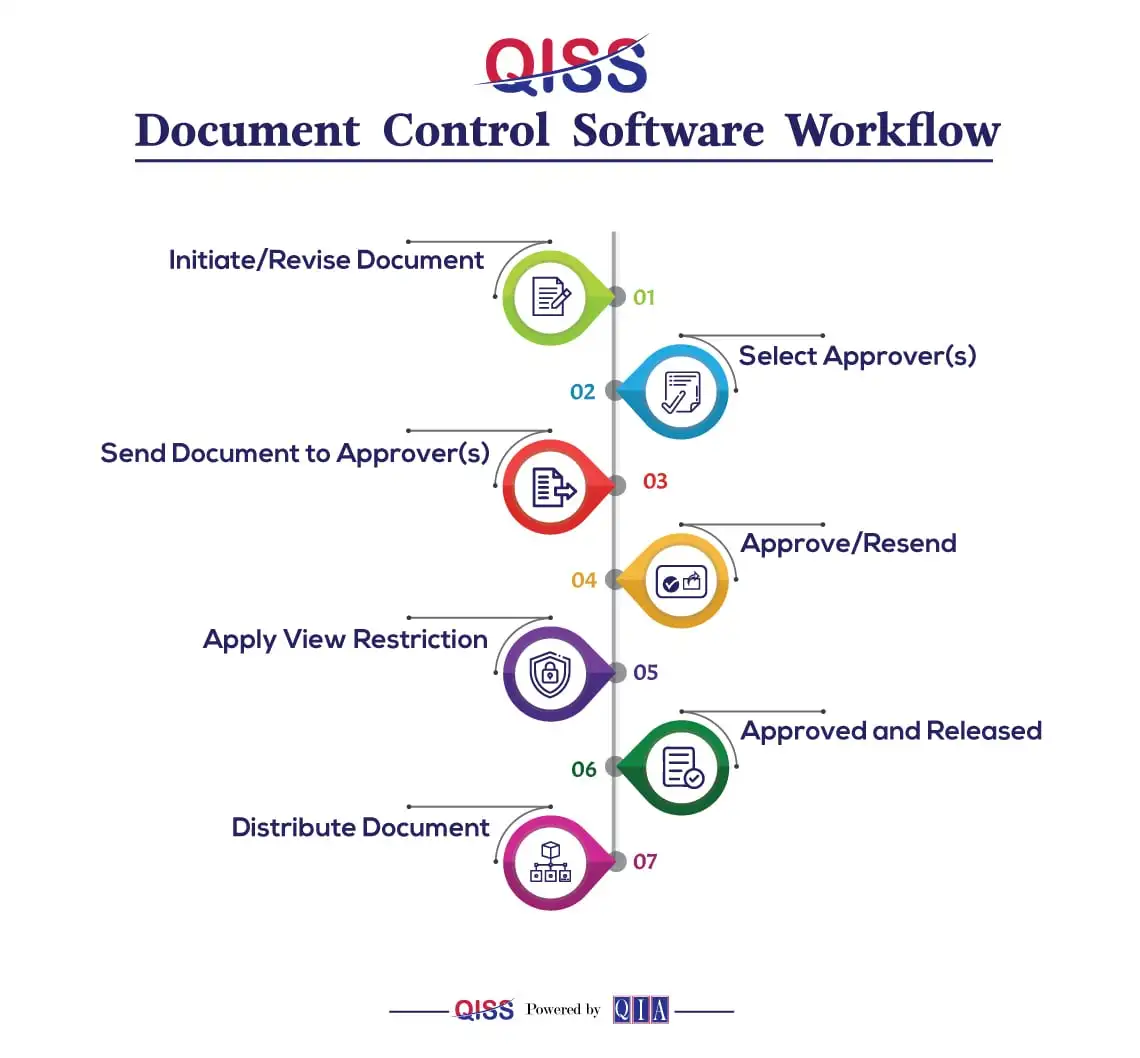 Figure: QISS Document Management Software Workflow
---
QISS Document Management Software
---
QIA provides the assistance required to determine whether QISS Document Management Software fulfills your demands.
What is Document Management System?
A document management system is a collection of automated document workflows implemented using document management software. These procedures facilitate the collection, storage, management, editing, disposal, and organizing of documents in an organization. QISS can even include parties outside the organization, such as customers and suppliers. This in effect truly expands the reach of an organization's QMS to optimize relationships with other interested parties. The benefits of Document Control extend globally. QISS offers a very smooth portal for your organization, suppliers, and customers. This portal allows you and your suppliers, as well as your customers to share important documents with each other. See below for a depiction of a truly global system:
What is a Document Control System & Why is it very Important?
A document control system is a formal set of tools and procedures that ensures the systematic creation, approval, distribution, and archiving of essential firm documents throughout their existence. Document control systems provide structure to intricate processes. They may be manual and paper-based or computerized and automated. They are meant to improve a company's capacity to organize its operations and provide excellent goods and services. Document Control Systems maintains an organization's documents. They update and exchange documents with all organization members. Document Control Systems can be implemented as follows:
Paper-based Document Control System: One of the oldest document control methods. All documents are manually updated on paper under this method.
Electronic Document Control System: This is a standard document control system. These systems automate document indexing, searching, retrieval, and distribution.
Cloud-based based Document Control System: A cloud-based document management system is a web-based tool that stores and manages data in the cloud storage, replacing the need for on-premises data servers and making it easier for enterprises to store, analyze, and keep tabs on digital documents.
QISS's versatility means you can select the appropriate Document Control option for your organization.
What is QISS Document Control Software?
QISS Document Control Software is the process of organizing, routing, tracking, approving, and distributing all documentation associated with product design, development, and manufacturing, supporting paperless process automation and managing quality documents according to ISO standards.
ISO standard requires organizations to establish a documented procedure to control several aspects of the document, including:
Identification
Storage
Protection
Retrieval
Retention
Review
Approval
Disposition
Legibility
Change tracking

The practices above can assist a business remain structured and uphold ISO requirements.
Use the QISS Document Management Software to automatically maintain ISO compliance. It will also assist you in relieving stress and producing flawless work with less effort.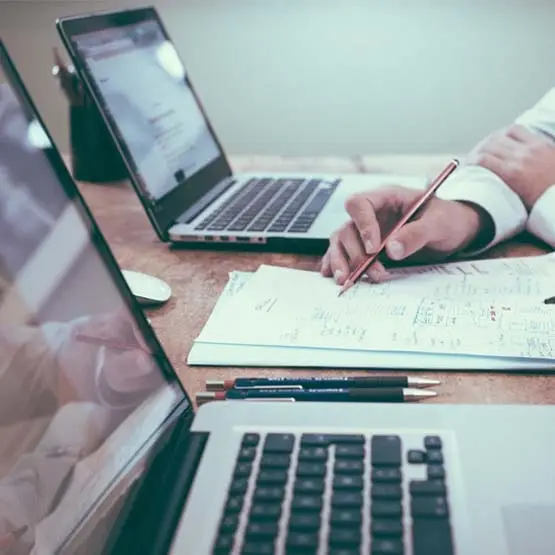 QISS Document Control Meets All ISO Document Control Requirements:
Ensures that documents are ISO 9000 compliant with safety and integrity
Integrated electronic routing and approval system
Systemwide audit trail and reporting
Electronic signature management and control system
The architecture of open, scalable systems
Standardized database support
Why is DMS very Important?
Documents, whether electronic or physical, are an integral part of virtually any business. Managing corporate information from multiple sources can be difficult, especially considering the surge in cybersecurity threats. How can firms overcome document management obstacles and maintain productivity?
Depending on your business type, a vendor with a sophisticated document control system capable of capturing, storing, and recovering both paper and electronic documents can provide your firm with several significant benefits.
QISS Document Control Software's importance
QISS Document Control Software can detect problems, notify relevant parties, and automate fixes. The QISS document management system is an indispensable tool for ensuring compliance for businesses operating in highly regulated sectors. Let's say you work in a highly regulated business and are looking at document control software. In that instance, conformity is probably the top priority. One significant advantage of the document control software is lowered regulatory risk. It's not even close to being the only realistic outcome. The optimal answer can provide numerous benefits, such as enhanced data protection, greater openness, decreased danger to operational continuity, etc. It means you can put your trust in the QISS Document Control Software solution, knowing that it will keep your business in full compliance with ISO standards.
What is EDMS system?
An electronic document management system (EDMS) is software for storing and managing various documents. This type of system is a subtype of the document management system, a storage system that helps users organize and store paper and digital documents. EDMS is a software system that manages digital documents instead of paper documents. Electronic document management enables the centralized storage of a substantial volume of digital documents. Many of these systems also have document retrieval capabilities.
Benefits of Implementing an EDMS
It can be daunting to even begin digitizing a large volume of paper documents. However, organizations that invest in a document management system online lay the groundwork for streamlining processes and expanding the scope of those most essential to the company. As far as QIA is concerned, EDMS is best for these reasons:
Cost-effective
Increased Productivity
Enhanced Security
Easy Document Retrieval System
Track Documents
Increased Document Searching Capabilities
More beneficial collaboration
Provides Centralized Storage
Simple File Sharing
Improved Timeliness
Improved Version Control
Improved Task Management
Reliable Backup System & Disaster Recovery System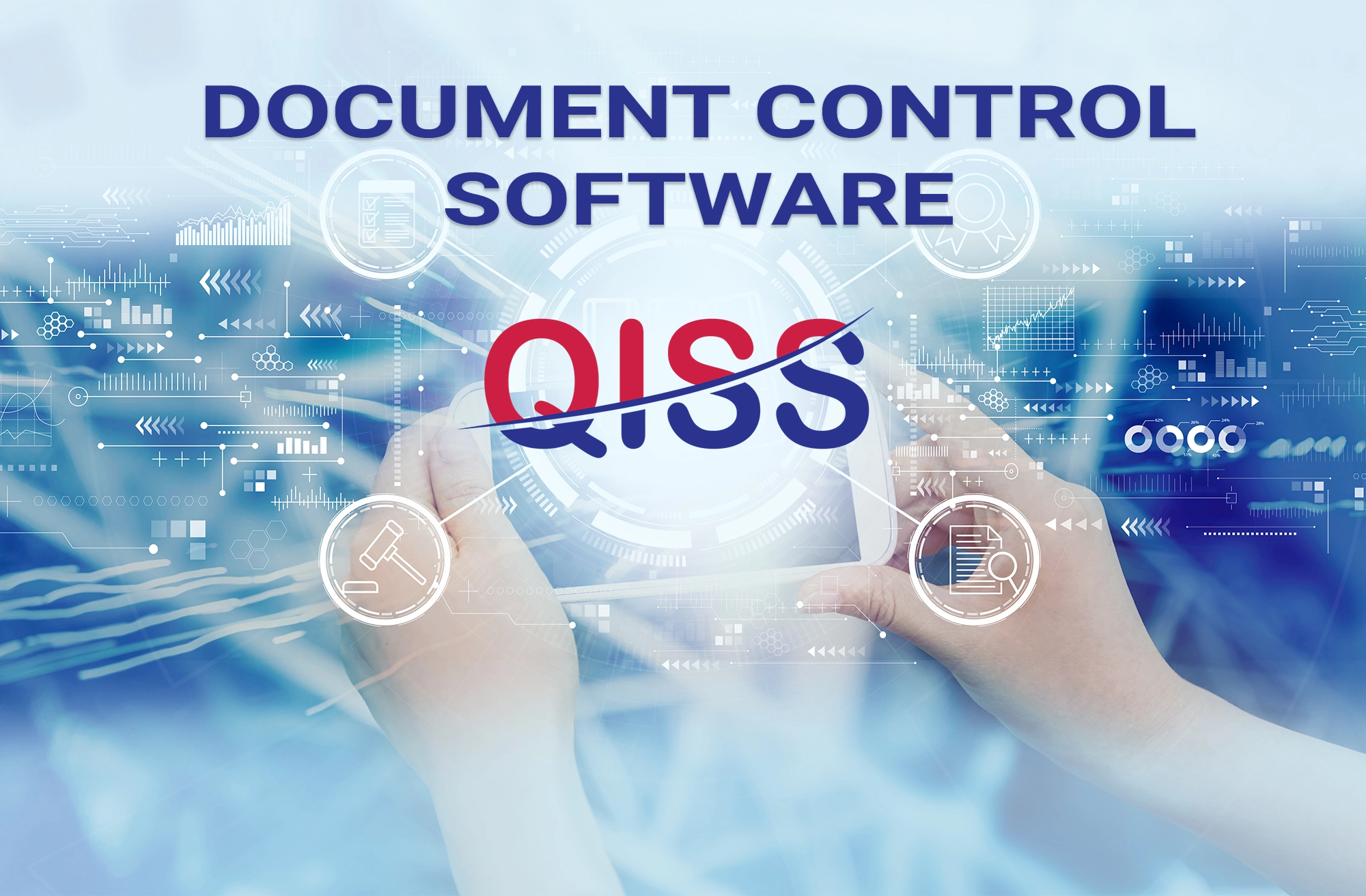 Why Choose QIA to Implement Your EDMS?
Your company needs a document management solution that will push you to set up things per ISO guidelines. Our twenty-eight years of experience providing Document control solutions will help you and your business thrive.
How can Document Management Systems and Software can help?
Document management software is used to store and organize all the documents that an organization creates. These documents can be uploaded into the system. Document management systems and software can help in various ways, but we are referring to a few.
It helps to increase productivity by making information retrieval easy.
It helps to reduce costs by reducing paper use and storage space.
It helps to reduce errors by making it easier for employees to find relevant information.
Reasons to choose QISS Document Control System
QISS Document Control Software, QISS Document Management Software, QISS ISO Document Control Software and QISS ISO Document Management Software automate your operations based on ISO standards. A digital solution is not only more productive, but it also makes keeping up with regulatory changes and maintaining compliance more manageable.
QISS (Quality Institute Software Solutions) is among the most user-friendly and dependable solutions. Therefore, you do not need to be a computer genius. The entire system can be fully implemented in a matter of days. Nevertheless, it should be evident that a document management system is advantageous to an organization and helps to streamline business procedures. Therefore, if you have read this entire page, you are well aware of your organization's requirements, and QISS is here to supply you with the most satisfactory answers. If you are prepared to deploy document control or document management software for your firm, you may entrust us with your Documentation concerns.
How to choose right Document Control?
Increased efficiency and output are desirable in today's offices. You may be concerned about your company's potential gains from making additional investments. Using a technology that facilitates the smooth administration of firm paperwork has several advantages. Using a document management system to organize your digital files has far-reaching benefits that you probably haven't even thought about yet. QIA found some of the following compelling reasons you to adopt a document control or management system:
Security: A well-refined rights system for document access across user groups and role levels is crucial for document management and workflow automation.
Scalability: A scalable solution grows with your business and customers.
User-friendly: The system must be user-friendly for everyone to benefit.
Reliability: You need to choose a reliable DMS for your company.
Here QISS can become your best friend. Incompetence caused by improperly managed papers or poorly structured digital documents can cost your business time, money, and frustration. The most excellent method to improve efficiency and output is to spend money on a robust document management system that can adapt to your specific needs. But the challenge is in really locating that answer. QISS provides alternatives to paper documents thanks to its top-tier document management software. The time and money you save using QISS Document Control Software come from the many unnecessary tasks it eliminates while increasing productivity and the quality of your work.
If you want to choose the right Document Control system for your business QISS might be the best option.
Features of QISS Document Control Software
The QISS Document Control Software offers the following list of features:
The workflow in QISS Document Control covers document creation, review, approval, and release. It can be modified to include new fields.
Once created and released, documents can be revised to reflect changes with Revision Control features.
QISS Document Control includes fields based on Best Practices, but you can quickly add additional fields to suit your needs.
It assigns levels to documents.
The capacity to link to related documents.
QISS's document control numbers are generated automatically based on metadata like document type, department, and a section of the standard element.
Manual document control number and revision can also be done.
Document control number and title can be automatically included in the document's filename.
Watermarks can be automatically inserted for identification if you choose to print and show the control number and revision. This enables maintaining control of documents outside of the system.
QISS enables you to plan reviews of released documents at various intervals to ensure the information's currency. Document owners are sent an email alert when such documents are ready to be reviewed.
The document owner can choose to review and make changes, assign others to collaborate, leave the document, and schedule another review later as required.
Views for confidential documents can be restricted.
Old/Obsolete documents can be archived.
Ability to notify users when a document is approved.
Ability to fix minor changes by replacing documents without going through the approval process.
Advance email notifications about due dates can be sent.
What are the most important parts of the control system?
Document management is fundamental to quality, compliance, environmental health and safety (EHS), and process excellence. Process information, work instructions, job descriptions, and specifications must be developed, amended, disseminated, tracked, and "retired" consistently and efficiently. While other aspects of the firm are through various degrees of automation and digital transformation, the quality department and the papers that power the organization continue to rely on manual (or email-assisted) operations.
This scenario can also be solved through automation; however, it is essential to understand what constitutes reasonable document control and how it drives operational excellence. Consider the following ten factors when contemplating implementing an automated document control system:
Ensure Your System Supports Workflows for All Types of Documents.
Ability to Configure Metadata.
Compatibility with Microsoft Office.
Intelligent Guidelines for Business Review and Approval
Connectivity with Training Management.
Processes for Change Request, Revision Control, and Obsolescence.
Capabilities of Integrated Reporting
Smart Filtering and Data Protection.
Mobility Is Crucial.
PDF or Word Documentation.
How to use a Document Control System & what does it do?
A Document Control System (DCS) allows an organization to store, manage, and exchange documents. It is a sort of information management system used to manage the flow of documents from generation to final delivery. It is a method for managing communication between all parties involved in a business process. Additionally, it manages document versioning and document control. To utilize a Document Control System, please follow the procedures below:
Step 1: you must identify the relevant workflows and documents.
Step 2: Establish accountability and quality standards.
Step 3: Documents should be labeled and filed.
Step 4: Create change protocols as the fourth step.
Step 5: Control access and security.
Step 6: It is necessary for version control document organization.
Document controller systems manage document integrity and ensure that documents have not been altered. Some document control systems additionally feature a workflow engine, which tracks a document's progression from creation to approval within the system. There are two types of document control systems: centralized and distributed. Distributed document control systems store documents in several locations, whereas centralized document control systems store all documents in one area. Our document management software, QISS, is your best option if you want to bring order to your chaotic workplace. Are you curious about how to use QISS Document Control System? We have made a video tutorial just for you.
What are DMS control processes?
The document control software processes govern how an organization controls its electronic documents from generation to final disposition. The DMS control process guarantees that all documents are kept properly and may be retrieved for legal or other purposes, such as audits and investigations, when necessary. It also ensures that records are adequately categorized for effective retrieval and usage following applicable laws or corporate policies, processes, rules, and regulations.
What is the purpose of this DMS documentation system?
This DMS documentation system centralizes all company documents. DMS manages document creation, storage, retrieval, revision, and deactivation. It centralizes all company documents. Version control, file management, and workflow management help employees share and collaborate on documents.
What is Online Document Management Software?
Cloud-based online document management has an intuitive, easy-to-use interface. It simplifies document control software processes, boosts productivity, and accelerates growth. Online document management software is accessible from anywhere and is browser-based. DMS 2022 represents years of research, testing, and development. This platform is based on a set of core impressions. QISS has all the latest updates, giving you an effortless user experience.
Best Document Management Software 2022
The finest document management software in 2022 allows users to save time and remain organized. Our document management software QISS has everything you need to organize your hectic workday. Our QISS products are designed to assist businesses of all types in remaining organized, making critical choices, and saving time. We will help you manage your paperwork swiftly, effectively, and without difficulty. The finest document management software of 2022 is the platform that facilitates the creation and distribution of documents. QISS expedites the search process and enables the management of many projects.
How to Choose the Best Document Control System in 2022 for Your Company?
Document control systems (DCS) are essential to any business. They are used to manage a company's documents and records. Document control software benefits a business in numerous ways. It decreases the possibility of losing essential documents and makes it easier to locate them if they are ever lost. It also increases workplace productivity, accuracy, and efficiency.
In 2022, businesses can utilize a variety of document control systems kinds for their organization. Some individuals opt for a paper-based document control system, while others prefer an electronic system or a hybrid of the two. The decision is yours to make. There are numerous document control system providers on the market in 2022, so selecting the finest one for your business is essential. The capacity of QISS Document Control Software to automate the distribution of documents such as Standard Operating Procedures (SOPs) and Policies satisfies the standards of ISO document control. The document control software provided by QIA is compatible with all document formats.
Why is QISS Document Control System best for you?
QISS places constant emphasis on document management and requires you to adhere to all stages to satisfy ISO standards. QISS is always current and increases your productivity.
Advantageous, Efficient, and Efficient Document Control System
By automating SOPs, rules, and other documents, the QISS Document Control Software meets ISO document control criteria. The document control software developed by QIA can manage all forms of paper. The like
QISS provides a secure, centralized document repository for inspections and audits. • QISS is web-based document management software. • All authorized users can access QISS documents online.
Computerized Document Revision Management System
QISS document control software meets ISO document control requirements by offering automatic revision control to ensure current document versions. QISS monitors modifications and notifies users.
Training Integrated with Document Control Procedure
Connecting to quality sub-systems, such as Employee Training Management, Audit Management, CAPA Management, Change Management, Customer Complaint Management, etc., QIA's QISS software for document control management satisfies all ISO document control requirements.
Enhancement of Management Visibility
The QISS document management software meets ISO criteria for reporting and analytics. They can proactively increase quality.
Why does QISS Document Control matter?
QISS Document Control Software can detect issues, alert stakeholders, and streamline corrective action. QISS is essential for compliance in highly regulated industries.
Consider researching document control software for a regulated industry. In that case, compliance is likely the top priority. Document control software reduces regulatory risk. It's not the only outcome. The perfect solution can increase information security, transparency, and business continuity risks.
QISS Document Control Software can help your company achieve 100% ISO compliance.
Benefits of QISS Document Control Software
Benefit #1
QISS Document Control Software can implement compliant identity and access control methods in highly regulated businesses to ensure only the trusted and appropriate people have access at the right time. Accidental data exposure can harm competitive advantage and brand reputation.
Benefit #2
QISS helps you with compliance factors that FDA and other regulatory bodies require, including:
QISS provides compliance with CFR Title 21, subpart 11 requirements for electronic signatures and passwords.
Complete document recall of outdated procedures and other irrelevant documents
An entire revision history, including revision dates and identities of editing parties.
Adequate safeguards against unauthorized revisions, deletions, or alterations of documents.
Benefit #3
QISS provides Transparency of Information:
Helps in identity and access management by protecting sensitive documents from exposure to the wrong parties.
Storage of multiple types of documents such as Word, PDF, Excel, PowerPoint, CAD files, and others
Retrieval of prior revisions
Control of archival and deletion of outdated documents
Mobile access to view and manage other actions
Benefit #4
QISS offers cloud-based global collaboration. This improves your QMS.
Benefit #5
QISS keeps your documents on high-security cloud servers with several redundant back-ups. They're available even if one of your locations is damaged.
Benefit #6
QISS Document Control Software has a Training/Competence/Learning Management System.
We have referred to much crucial information about the document control and document management system. QISS differs significantly from other software. Differences? This solution is intuitive, easy to use, and robust. When a company uses QISS Document Management Software, it's more likely to meet ISO 9001, AS 9100, ISO 13485, ISO 45001, ISO 14001, API Q1, API Q2, IATF 16949, and other Management System Standards.